• Deskjet 3636 • HP 302 • HP Envy 4520 • HP Envy 4524 • HP302 • HP302 Refill Kit • Officejet 4658 • Refill HP Deskjet 3636 • Refill KIt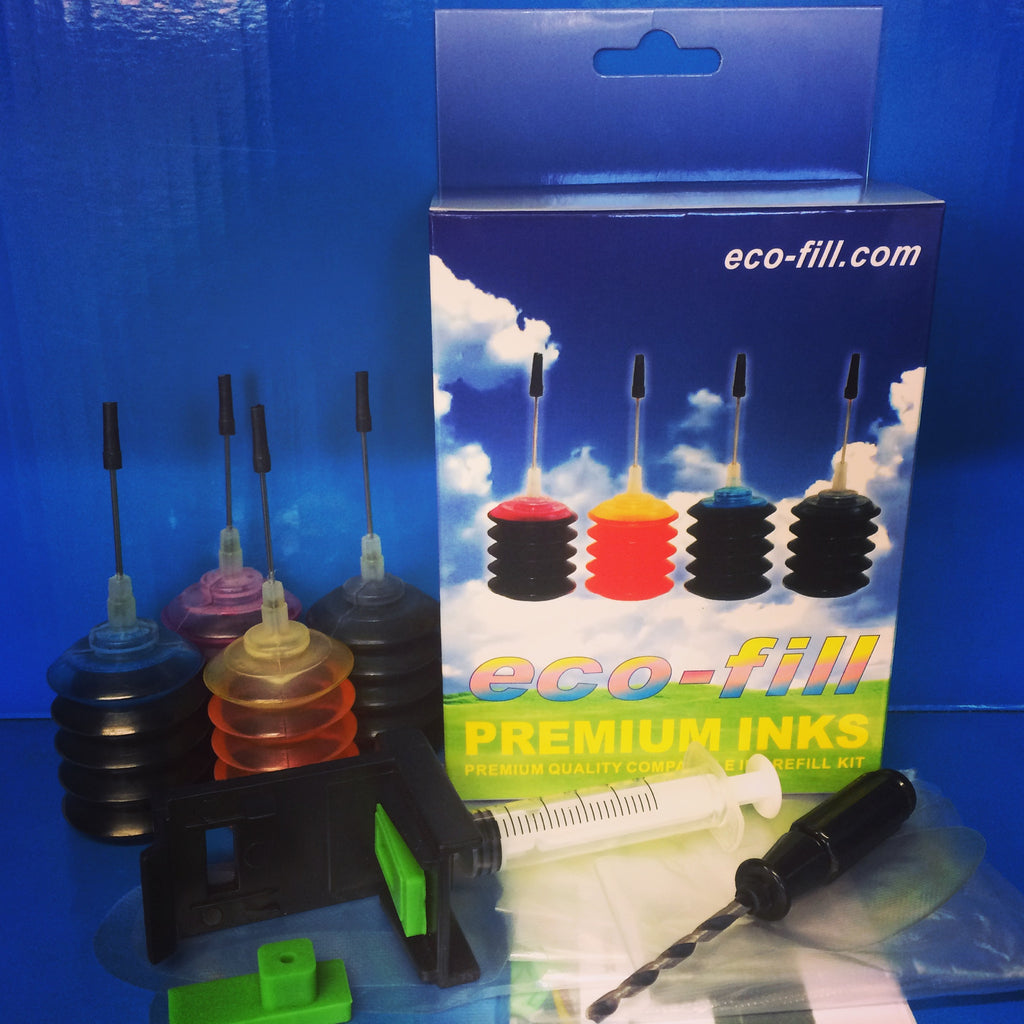 The HP Envy 4524, Deskjet 3636, and Officejet 4658 printers all use the HP302 black and colour ink cartridges by Hewlett Packard.  The devaluation of the UK Pound, further compounded by the recent HP price increases, are making printer owners consider refilling their cartridges again.  Particularly if each refill can save them £20! Eco-Fill offer a specific ink refill kit for refilling the HP302 cartridges used in the following printer models. HP Deskjet 1110, 2130, 2132, 2134, 3630, 3632, 3634, 3636, 3638, HP Envy 4520, 4522, 4523, 4524, 4527, HP Officejet 3830, 4650, 4658.  The kit contains a bottle of black, cyan, magenta, and yellow ink, a screw...
---
• Canon Pixma • CLI-571 • Ink Refill • MG5750 • MG5751 • MG5752 • MG5753 • MG6850 • MG6851 • MG6852 • MG6853 • MG7750 • MG7751 • MG7752 • MG7753 • PGI-570BK • Refill Ink • Refill Kit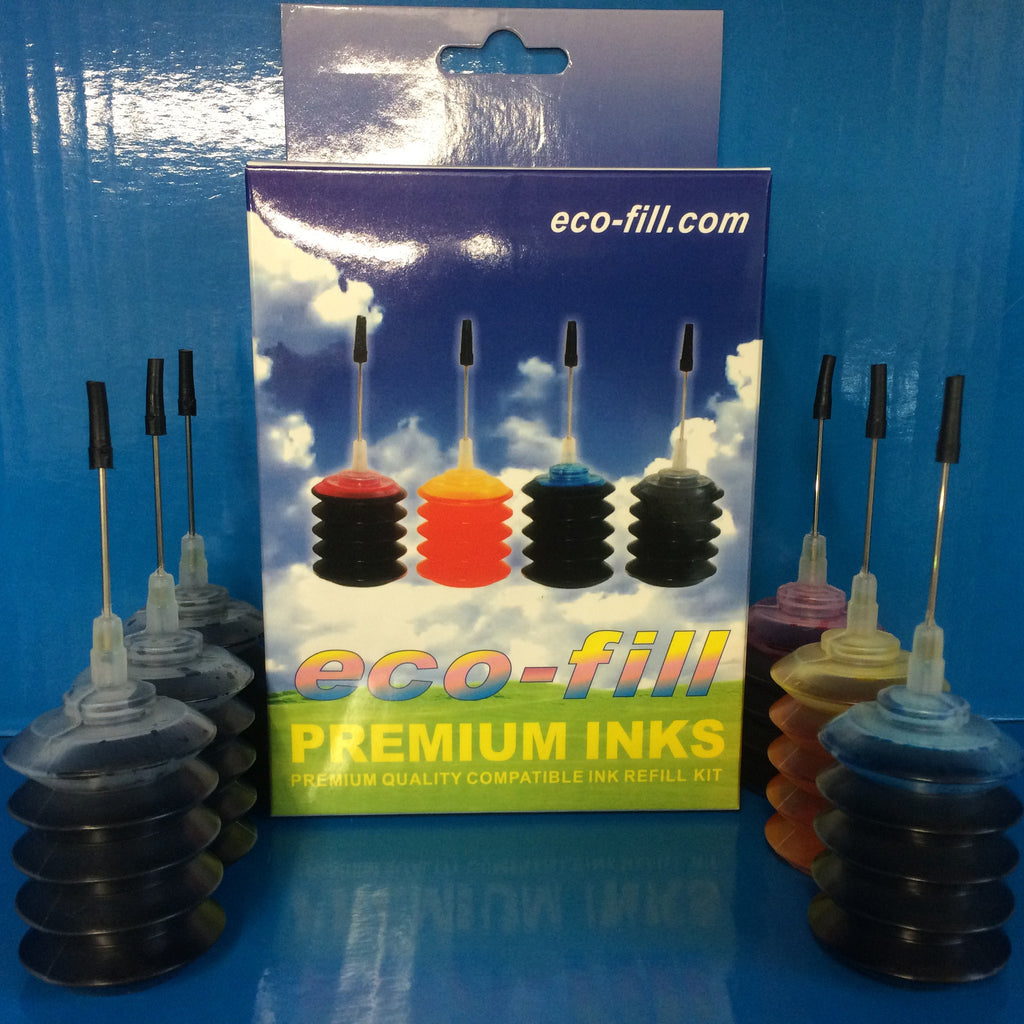 New Eco-Fill Ink Refill Kit for use with Canon Pixma MG5750, MG5751, MG5752, MG5753, MG6850, MG6851, MG6852, MG6853, MG7750, MG7751, MG7752, MG7753 printers includes 3 X 28ml Black Ink Bottles, 1 X 28ml Cyan Ink Bottle, 1 X 28ml Magenta Ink Bottle, 1 X 28ml Yellow Ink Bottle, and refilling instructions.  The simple refill procedure involves dropping small amounts of ink onto the ink outlet sponge on each cartridge.  The sponges typically hold around 4ml of ink. This new Canon PGI-570BK CLI-571 BK/C/M/Y refill kit is available from this link. *Please note.  Some Canon models above have a Grey cartridge. ...
---
• blunt needles • canon • canon ink • cartridges • ciss • dye ink • empty cartridges • ink • ink cartridges • ink refill • pigment ink • printer ink • refill • refill canon • refill ink • refill instructions • refill kit • refillable cartridges • refilling • refilling instructions • reset cartridges • reusable cartridges • syringe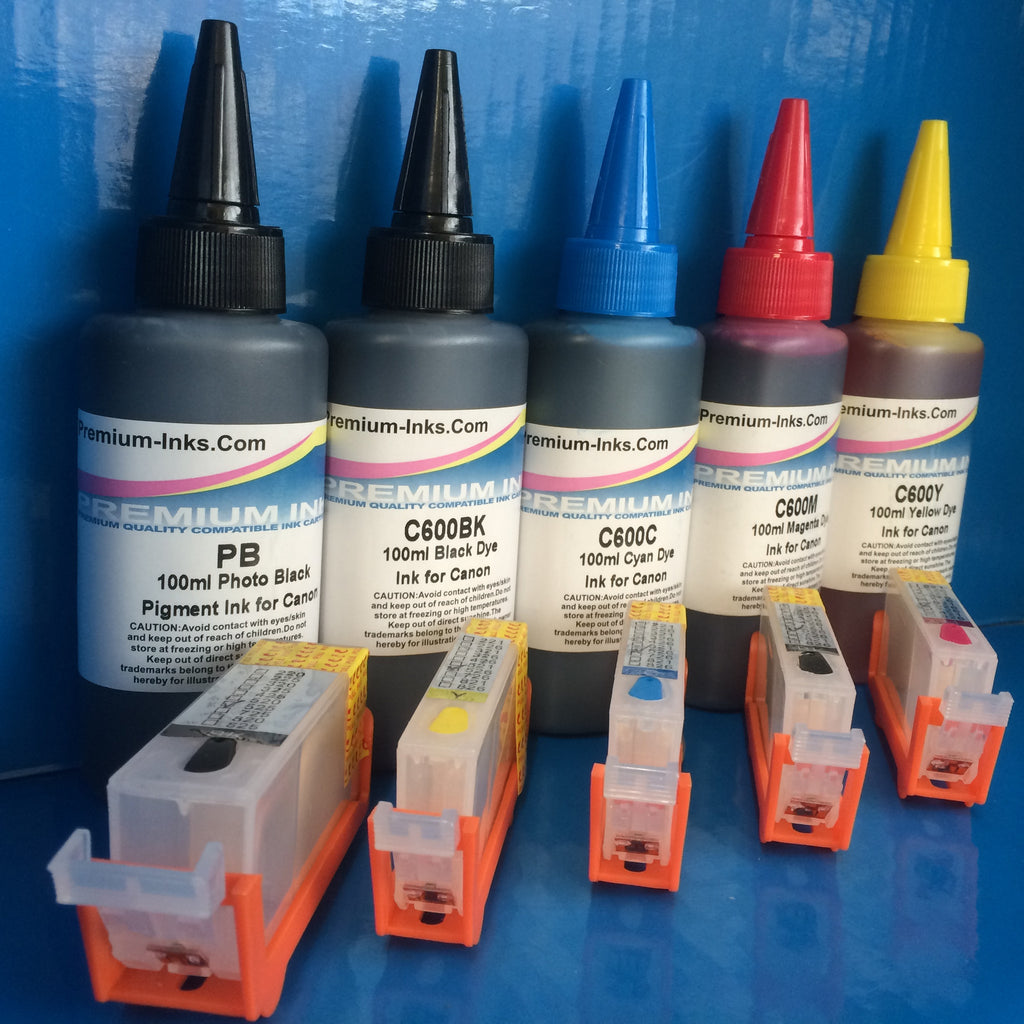 Following the recent price increases of original ink cartridges, refilling is becoming more popular again.  We regularly get asked how to refill Canon PGI-550 BK CLI-551 BK/C/M/Y used in the Canon Pixma MG5550, MG5650, iP7250, MG5400, MG6300, MG5450, MG6350, MX725, MX925 printers. Although the above is a workable solution we do not recommend the below method of refilling the ink in your printer.  The original Canon cartridges are not designed to be refilled and can be messy to do so.  We recommend you use special refillable cartridges that contain auto reset chips.  However if you are determined to refill your...