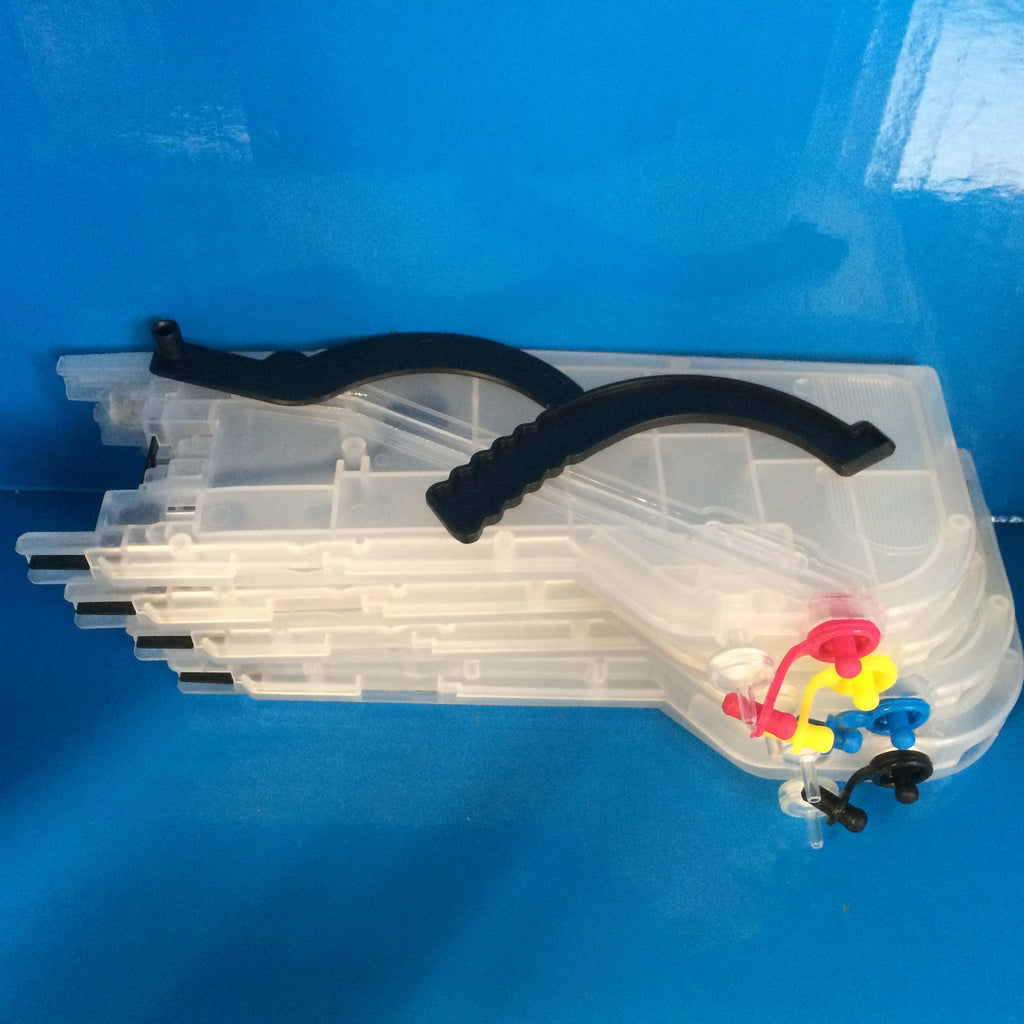 4 LARGE REFILLABLE PRINTER CARTRIDGES TO REPLACE BROTHER LC1220 LC1240 LC1280 NON OEM
LARGE EMPTY REFILLABLE CARTRIDGES FOR USE WITH BROTHER MFC-J430W, MFC-J435W, DCP J525W, MFC-J625DW, DCP J725DW, DCP-J925DW, MFC-J5910DW, MFC-J6510DW, MFC-J6710DW, MFC-J6910DW, MFC-J6950 printers. To replace LC1220, LC1240, LC1280 cartridges.
THESE LARGER REFILLABLE CARTRIDGES PROTRUDE FROM THE FRONT OF THE PRINTER OFFERING SEVERAL ADVANTAGES. THEY HOLD FAR MORE INK (80ML EACH), SIMILAR TO A CISS, BUT WITHOUT THE HASSLE OF THE TUBES. YOU CAN ALSO SEE HOW MUCH INK IS LEFT INSIDE OF THEM. THE DISADVANTAGE IS THAT YOU HAVE TO PUT A HOOK INSIDE THE DOOR SENSOR TO MAKE THE PRINTER THINK THAT THE INK DOOR IS CLOSED. ON MANY MODELS THE HOOK IS FIXED TO THE MAGENTA CARTRIDGE. ON A FEW OTHERS YOU WILL NEED TO PUT THE PLASTIC HOOK INSIDE THE SENSOR BY HAND. IF YOU DO NOT FEEL COMFORTABLE ABOUT DOING THIS THEN YOU ARE MAYBE BETTER BUYING THE SMALLER REFILLABLE CARTRIDGES THAT ALLOW YOU TO CLOSE THE DOOR.


VAT INVOICE INCLUDED!
Fast Delivery Service (Same Working Day Dispatch on orders received before 3pm)
---
---
More from this collection